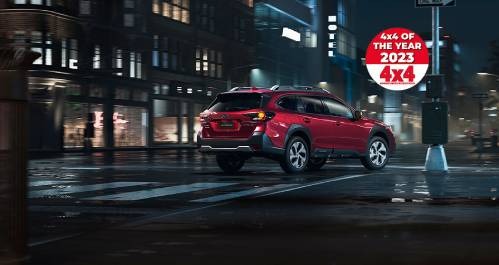 SUBARU OUTBACK – BEST CROSSOVER ESTATE OF THE YEAR 2023
We're thrilled to announce that the Subaru Outback has been awarded 4x4 Magazine's 'Best Crossover Estate' for 2023.
4x4 magazine is the market leader in automotive off-roading. They test a large number of four-wheel drive vehicles from the world's top manufacturers. For over 70 years Subaru have been dedicated to building cars that offer the best protection for you and your family which is why our cars are known for their outstanding capabilities – on and off-road, in any conditions. This award recognizes our continued commitment to be better where it matters.
Whether it's an icy school run, a motorway commute or a wet gravel track ascent, permanent Symmetrical All-Wheel Drive and X-MODE, the Subaru Outback guarantees sure-footed capability and total confidence at the wheel. The latest Outback is the most technologically advanced, sophisticated, and safest yet.
The judges at 4x4 Magazine were impressed with the level of advanced safety technology fitted as standard, the capability in all conditions and the spacious interior, making it an ideal family car. With the maximum 5-star Euro NCAP safety rating you will be offered the very best protection for you and your family wherever you go.
'There's never been an Outback we didn't admire, even back in the days before Subaru had started calling it that. The company knows exactly what it's doing with vehicles like this.
The latest model has more technology than ever before, but on top of that it also has everything you need to make a good, usable family wagon. Things like a roomy cabin front and rear, brilliant flexibility for carrying cargo and, no small matter, world-class safety kit. And on top of that, you can drive it in sloppy, wet, muddy conditions all day long.
It's often said that once you've owned a Subaru, you never want to be without one. And there's a reason for that. The Outback is all the family car you're ever likely to need – and, in the real world, it's all the off-roader you're ever likely to need too.' Alan Kidd, Editor, 4x4 Magazine.
The Subaru Outback has been named 4x4 Magazine's 'Best Crossover Estate' for 2023, a testament to its outstanding capabilities both on and off-road. With Symmetrical All-Wheel Drive and X-MODE as standard, it guarantees confidence in any condition. The spacious interior, advanced safety features, and 5-star Euro NCAP rating make it an ideal family car. The Subaru Outback continues to impress with its technology, flexibility, and real-world off-road performance, solidifying its position as a reliable and beloved choice among drivers.
Latest News