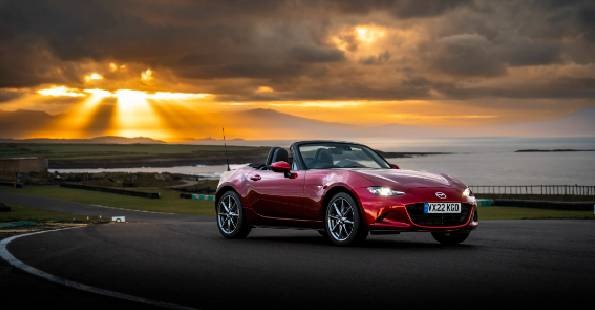 MX-5 SUSTAINABLE ROAD TRIP
Mazda's iconic MX-5 Roadster completed a 1000-mile road trip around the UK using 100 percent sustainable fuel, setting benchmark lap times at race circuits in each of the four home nations along its way.
The completely unmodified Mazda MX-5 was powered by SUSTAIN, a 100% sustainable road fuel produced by Coryton from agricultural waste and by-products. Across its week-long journey, the MX-5 travelled to Anglesey Circuit in Wales, Oulton Park in England, Knockhill in Scotland and Kirkistown in Northern Ireland, demonstrating how sustainable fossil-free fuels can play a part in decarbonising road cars and motorsport.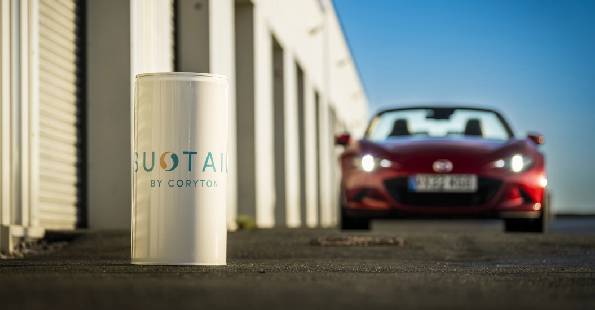 The MX-5 was powered by SUSTAIN, a 100% sustainable fuel, throughout its journey
Mazda is on a journey to sustainability, which includes a firm commitment to reducing CO2 emissions from every car, and becoming completely carbon neutral across all our operations by 2050.
One way we can achieve this is by adopting cleaner, sustainable fuels to power existing combustion-engined vehicles as we demonstrated with the MX-5's road trip. Over the course of the 1000-mile road trip, the Mazda roadster averaged 45.6mpg (excluding its circuit laps) and delivered the same performance, economy and unmistakable 'Jinba Ittai' character as when powered by conventional fuels.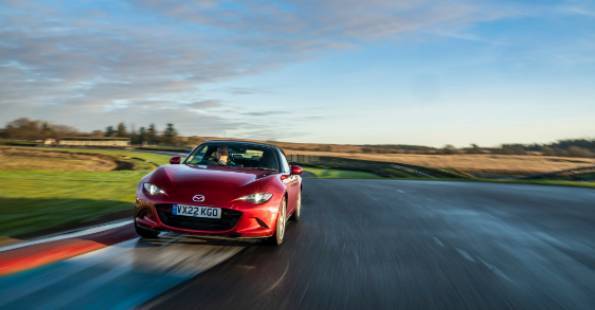 Exploring the MX-5's 'Jinba Ittai' character at Knockhill Racing Circuit, Scotland
To contribute to our climate neutrality aims, Mazda engineers will also continue to develop our advanced internal combustion engine technology like the award-winning e-Skyactiv X Spark Controlled Compression Ignition (SPCCI) petrol engine which combines diesel-like fuel efficiency with the power and drivability of a petrol engine.
These future innovations in our unique and efficient combustion technology will sit alongside our hybrid, plug-in hybrid and all-electric technologies as part of a Multi-Solution approach to achieving net zero by 2050.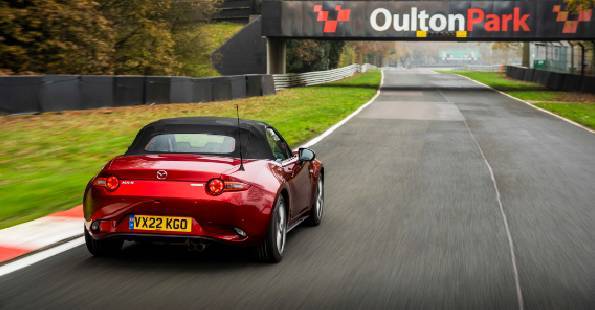 Lapping Oulton Park, England, as part of the Mazda's sustainably-fuelled UK roadtrip
The MX-5's tour of race circuits throughout the four home nations also shines a light on the part that sustainable fuels can play in motorsport. This transition is already underway at both club and international levels of motorsport and is supported by governing bodies like Motorsport UK, who see alternative fuels and advancing technologies as complementary in the pursuit of reducing motorsport's environmental impact.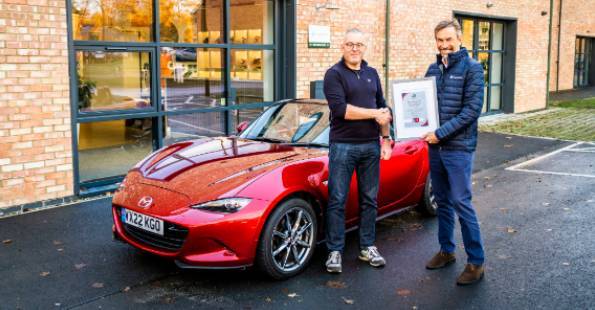 Motorsport UK recognises Mazda's sustainability achievement
As Mazda has demonstrated in Japan with our Mazda2 Bio concept, a bio-fuelled endurance racer, advanced second-generation sustainable biofuels are a viable alternative to conventional fuels.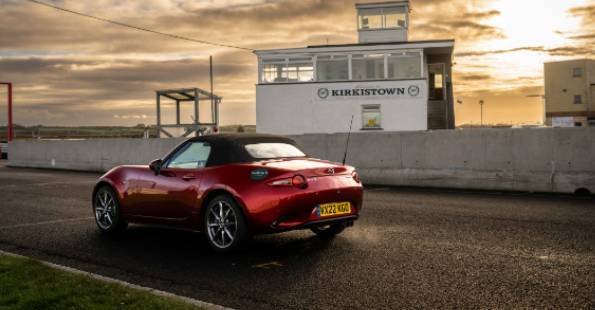 Completing the landmark journey at Kirkistown circuit, Northern Ireland
By completing this landmark road trip around the UK with the MX-5, we have shown how Mazda continually strives to reduce its impact on the environment without losing the essence of owning and enjoying a Mazda: the joy of driving.
While we may have to wait until sustainable fuels are introduced for road use, you don't have to wait to enjoy the Mazda MX-5's unique character and heritage - experience it for yourself by requesting a test drive at your local Mazda dealer.
The MX-5's sustainable road trip has not only proven the feasibility of sustainable fuels but also reaffirmed Mazda's position as a forward-thinking and environmentally-conscious automotive brand. As the journey towards a greener future continues, Mazda remains at the forefront of innovation, seeking new ways to reduce environmental impact while delivering the thrilling driving experience that enthusiasts have come to love in MX-5 cars.
Latest News