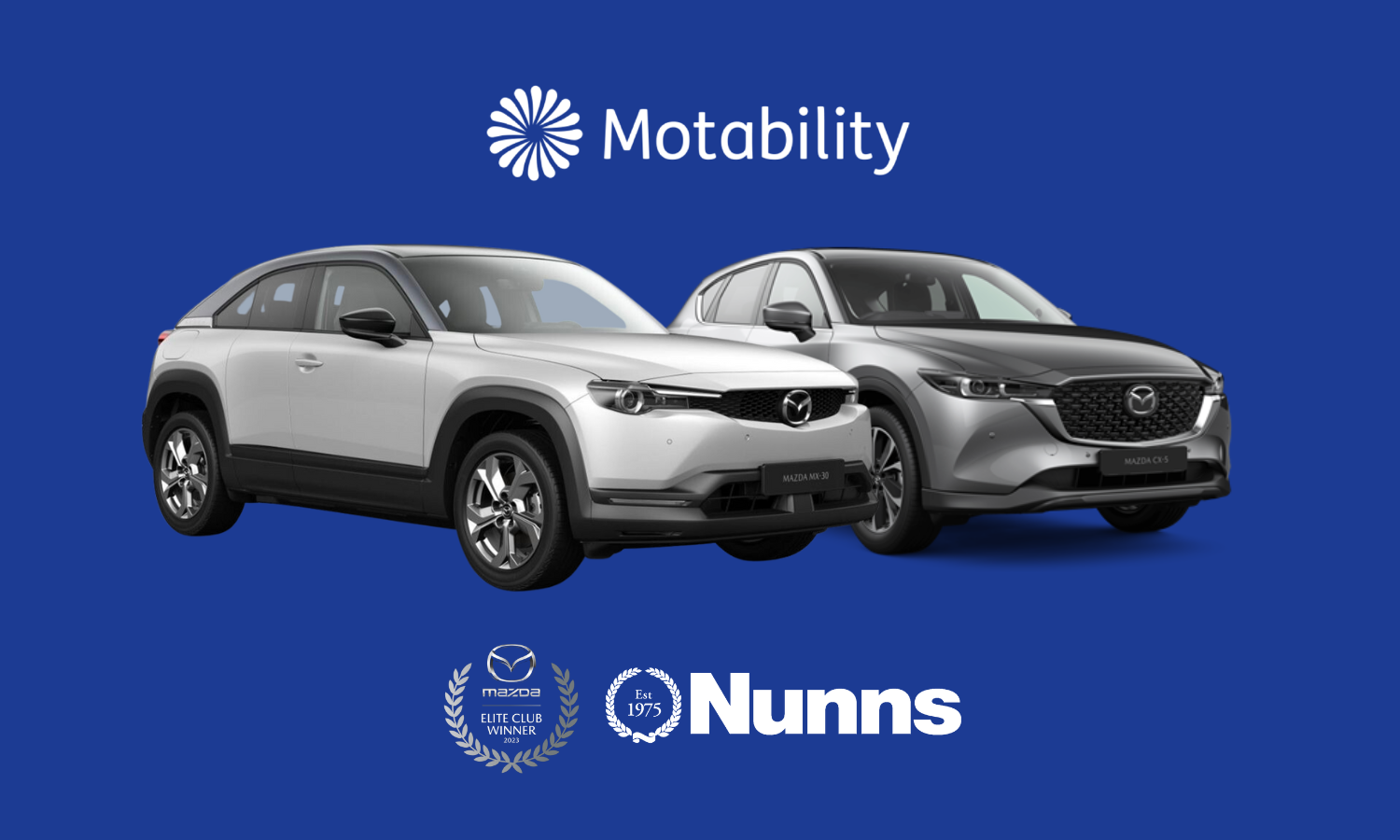 Mazda Cars on Motability at Nunns
Exploring the Freedom of Mobility with Mazda Cars at Nunns Grimsby
Mazda on Motability at Nunns Grimsby:
When it comes to the perfect blend of style, comfort, and performance, few brands can rival Mazda. And when it comes to accessible mobility solutions, few dealerships can match the offerings of Nunns Grimsby. If you're in search of a reliable and stylish vehicle that caters to your unique needs, look no further than the enticing range of Mazda cars on Motability at Nunns Grimsby.
But First… What Is Motability?
The Motability Scheme offers an affordable way for disabled people to lease a new car, wheelchair-accessible vehicle, scooter or powered wheelchair.
Who Can Join The Motability Scheme?
The Motability Scheme is available to anyone who receives one of the following allowances, with at least 12 months remaining:
Enhanced Rate of the Mobility Component of Personal Independence Payment (PIP);

Higher Rate Mobility Component of Disability Living Allowance (HRMC DLA);

War Pensioners' Mobility Supplement (WPMS);

Armed Forces Independence Payment (AFIP);

Higher Rate Mobility Component of the Child Disability Payment (CDP); and

Enhanced Rate Mobility Component of the Adult Disability Payment (ADP).
How Does The Motability Scheme Work?
With the Motability Scheme, all or part of your mobility allowance is transferred to Motability Operations Ltd for the duration of the lease period. Some vehicles cost the same as, or less than, your weekly allowance. More expensive vehicles require an additional payment (known as an Advance Payment) to cover the cost of the lease.
How Can I Join The Motability Scheme?
If you decide that the Motability Scheme is right for you, there are a few steps you need to take in order to lease a new car, WAV, scooter or powered wheelchair:
Choose a vehicle - test drive it and consider adaptations.

Find a dealer - there are over 4,500 Motability Scheme dealerships in the UK.

Order the vehicle - the dealership's Motability Scheme specialist will assist with each order.
Every lease includes:
Insurance (for up to three named drivers for cars and WAVs).

Servicing and maintenance.

Full breakdown assistance.

Tyre repair and replacement.
Mazda Motability Offers at Nunns:
At Nunns Mazda, you can get the Mazda MX-30 on Motability. This cutting-edge electric vehicle is available for immediate delivery with a remarkable £0 advance payment, putting eco-friendly driving well within reach.
You can also get the Mazda CX-5 with a starting advance payment of just £1799, it combines style and performance, making every journey a joy.
The Essence of Mazda's Appeal:
Mazda has a reputation for crafting vehicles that are more than just machines; they are a seamless fusion of innovation and artistry. This ethos extends to their line-up of Motability cars, ensuring that drivers with varying mobility needs can experience the joy of driving without compromising on quality. Mazda's commitment to "Jinba Ittai," the feeling of unity between horse and rider, is reflected in every vehicle they produce.
Motability Made Easier:
Nunns Grimsby understands the importance of accessibility and independence for individuals with mobility challenges. Through the Motability scheme, Mazda cars at Nunns Grimsby are available for lease, allowing you to experience the comfort and technology that
Mazda is renowned for. With a range of models to choose from, you can find the perfect fit for your lifestyle.
Advanced Technology for All:
One of the hallmarks of Mazda vehicles is their cutting-edge technology, designed to make driving safer and more enjoyable. Features such as the i-ACTIVSENSE suite of safety systems, which includes adaptive cruise control, blind-spot monitoring, and lane-keeping assist, ensure that you're well-protected on the road. These technologies are not only designed to enhance safety but also to provide greater ease and convenience to drivers.
Driving Dynamics that Delight:
Mazda cars are known for delivering an exceptional driving experience, and this extends to their Motability offerings. The brand's SKYACTIV technology focuses on optimising performance and efficiency, resulting in responsive handling and impressive fuel economy. Whether you're navigating city streets or embarking on a highway journey, Mazda vehicles provide a dynamic and enjoyable ride.
Personalisation for Every Preference:
At Nunns Grimsby, you're not just choosing a car; you're choosing a vehicle that aligns with your preferences and needs. Mazda offers a range of customisation options, from exterior paint colours to interior finishes, ensuring that your Motability vehicle reflects your personal style. The team at Nunns Grimsby is dedicated to helping you find the perfect Mazda that suits your unique taste and requirements.
A Commitment to Customer Satisfaction:
Nunns Grimsby prides itself on its customer-centric approach. The knowledgeable and friendly staff are there to guide you through the process of selecting the right Mazda car on Motability. From explaining the various features to assisting with paperwork, their goal is to make your experience seamless and enjoyable.
For those seeking the freedom of mobility without compromising on quality, Mazda cars on Motability at Nunns Grimsby offer an exceptional solution. With a blend of advanced technology, driving dynamics, and personalisation options, Mazda vehicles provide a driving experience that's truly second to none. At Nunns Grimsby, you're not just leasing a car; you're embarking on a journey towards enhanced mobility and independence in style.
Experience the joy of driving a Mazda through the Motability scheme at Nunns Grimsby and discover a world where mobility knows no bounds.
Latest News